Trusted by:




FEATURES
Everything you need to manage your equity
Capboard is the tool to keep your cap table up to date, have all documents in one place, simulate funding rounds and exits, and much more.
Manage relationships with investors and employees: share and store monthly updates, fundraising documents, decks and due diligence paperwork.
Cap table management

Share the next generation cap table with investors and shareholders.

Funding and exit simulations

Create a simulation of your cap table after a funding event or any other transaction type.

Equity plans for employees

Grant stock options and allow employees to have full visibility on vesting schedule, cliff, good and bad leaver clauses, etc.

Investor management

Easily give access to existing and potential investors to your equity and documents.
For founders and lawyers
Capboard makes managing company equity easy.
Save time and avoid mistakes

The single source of truth for funding and cap table history - avoid receiving investor emails asking for equity details.

Funding and exit simulations

Make projections of dilution and voting rights with different funding rounds and exit scenarios. Calculate payouts taking into account your current cap table.

Improve communication with investors

Investors have full access to your equity and business performance history, and receive notifications with the latest updates.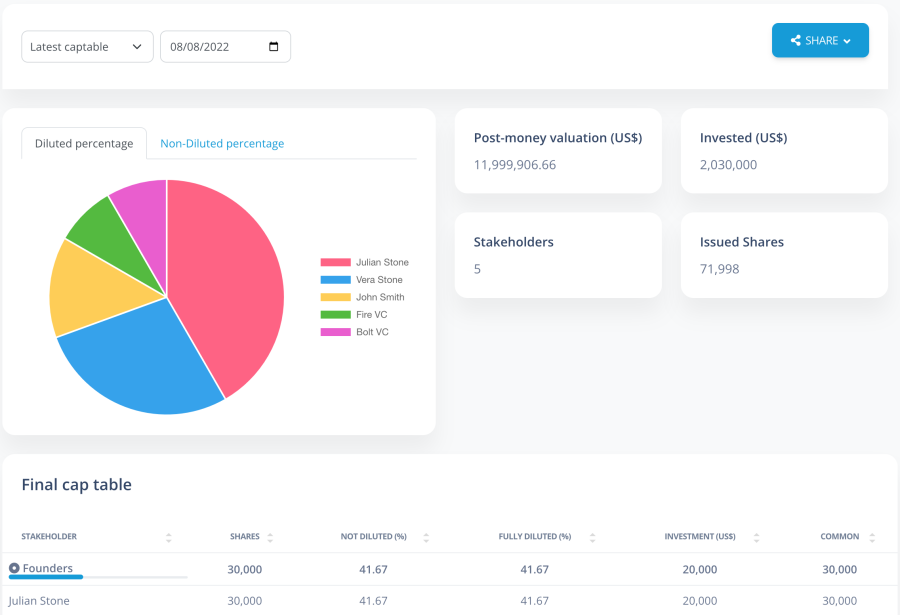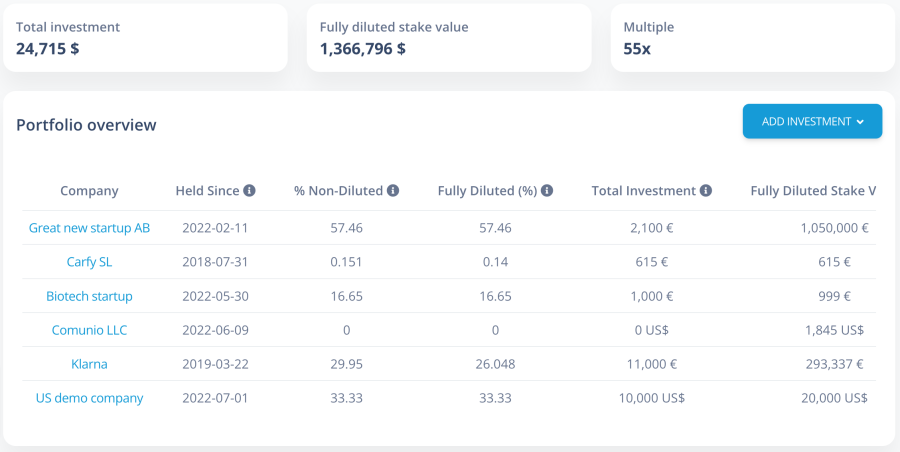 For investors
Your portfolio in one place: have full visibility on your stakes and the evolution of its value.
Portfolio overview

Track the value of your startup investments, and have the cap table evolution one click away.

Document repository

All documents in one place: shareholders' agreement, board meetings, monthly reports to investors...

Financial performance

Check your fund's performance over time, with realized and unrealized IRR, cash-on-cash multiples and other financial KPIs.
For employees
Gain visibility on the value and terms of your equity for all the companies you have worked for. Completely free for employees.
Value of your equity compensation

Track the value evolution of your stock options/ESOP, how much you consolidate, and much more!

All details, explained

Understand the main terms of your company's equity plan: cliff, vesting schedule, bad and good leaver clauses, liquidation event...

All your stock grants in one place

Have you received equity in several companies? Manage all your stock grants on Capboard.
Trusted by: