What is a Data Room?
A virtual data is an online repository of documents and data, allowing companies to securely store and share documents with other companies or individuals. Usually digital data rooms are used to streamline the due diligence process during fundraising, M&A, private equity or venture capital.
Common features include:
Document management: upload, organize and share Documents, Presentations, data sets, videos and any other file type. Structure the files in folders to facilitate navigation.
Granular user permissions: a robust user permission system is key for any data room, allowing to set different view/edit/download permissions by user and groups/firms, as well as by document or folder.
Password protection: documents and folders can have an extra layer of security by requiring stakeholders to provide a password that has been previously shared with them through a different channel.
Watermark: documents can have a unique watermark added to stop screenshots being taken.
Redaction: integrated redaction erases sensitive data from documents. It can be a manual feature where an employee to do it page by page, or automated with AI.
Print and download restriction: with a data room, companies can restrict users to download or print certain private documents.
Usage and access tracking: track which stakeholder or firm has seen what documents, when was the last time they reviewed a document... with automated notifications.
Document expiry and self-destruct: it is possible to set expiration and destruction dates for accesses and documents, which avoids having uninterested parties to keep having access to a data room.
Branded data room: some Enterprise deals require the documents and the platform to follow the company's brand guidelines.
How to use a Data room when fundraising or M&A
Startups looking for a new investor usually use a Virtual data room to structure their fundraising or M&A deals. Its usage depends on the stage and nature of the deal and the size of the company.
Interest gathering
When companies look for a potential investor or acquirer, it is common to prepare a deck highlighting the main achievements and KPIs. That deck is shared with third-parties that have not signed an NDA, and usually that deck gets forwarded to funds or stakeholders outside of our control.
A Virtual Data Room is useful for those companies that want to control the first stages of a deal. By uploading the deck and giving access or sharing a link with our stakeholders, it is possible to track who opened the deck, for how long they have reviewed, and if they have forwarded internally or externally. On the other hand, some investors may prefer having the file so they can download it or sharing it freely.
Due diligence
When a Term sheet or Letter of Intent has been negotiated and accepted, the due diligence stage start. The potential investor or acquirer will want to check several pieces of information and documents to make sure the company is in the situation shared during the negotiations. Those documents may include:
Corporate records: minutes of stockholder's meetings, shareholders' agreement, certificate of incorporation, list and detail of subsidiaries and the entity org chart.
Business plan and financials

: financial statements, bank statements, financial projections.

Intellectual property: list of patents, trademarks, copyrights and domain names the company holds.
Cap table: list of past and existing shareholders with a detail of their investment, holdings and share classes, as well as all share certificates.
Material agreements: the company's terms of service or use, all high-value contracts with suppliers and customers, loan or financing documentation, insurance policies, confidentiality and NDA, consulting documents, etc.
Disputes and litigation

:

any past, current, pending or threatened dispute or investigation related to labor agreements or unions, trademarks, etc.

Employees and benefits

: list of employees with salary, contract type, commission structure, country... employee handbook, employee benefit list and costs.

Equity grants: detail of any promised ESOP that has not been granted yet, as well as details of acceleration clauses.
Growth performance: marketing channel data and attribution logic for B2C businesses, CRM data or funnel detail for B2B ones.
With a Data Room, the company can share all the information safely, structure it in folders and track who checks what and for how long, to identify potential issues early on.
Post-signing data room
A Virtual Data Room is also used after finalising the deal to report on a monthly or quarterly basis on financial performance and the other key areas. It is important to keep sharing relevant information, as the relationship with investors continue; and oftentimes acquired companies remain independent and keep their Executive team.
Some documents that may be shared when the deal is closed:
Investor update: monthly or quarterly report with the main highlights, including financial performance but also qualitative information about the business. It is similar to the report public companies do.
KPI dashboard: some companies give their investors access to their business and financial dashboard so they can check the metrics in real-time. Other companies prefer to share the KPIs periodically through a data room, retaining control on the cadence and analytics.
Cap table updates: any change on the company's ownership, including ESOP, convertible loans, warrants, etc.
The Best Data Room for Startups
Capboard is the first Virtual Data Room that allows startups to manage their fundraising and M&A in one place, including the cap table, ESOP, and the shareholder list. Some of the benefits include:
Data room with cap table, ESOP and share certificates: include in your deal room a live version of your cap table, all share certificates and ESOP details. It's automated and it keeps itself up to date.
Share it with existing or potential shareholders: all existing shareholders are already on Capboard, and you can share all documents in one click. Add additional stakeholders and track their activity.
Track activity: get insights on who reads what document, and get notified.
Security and privacy: all documents are encrypted and backed up. If deleted, they are also erased from back ups. Capboard is also GDPR compliant.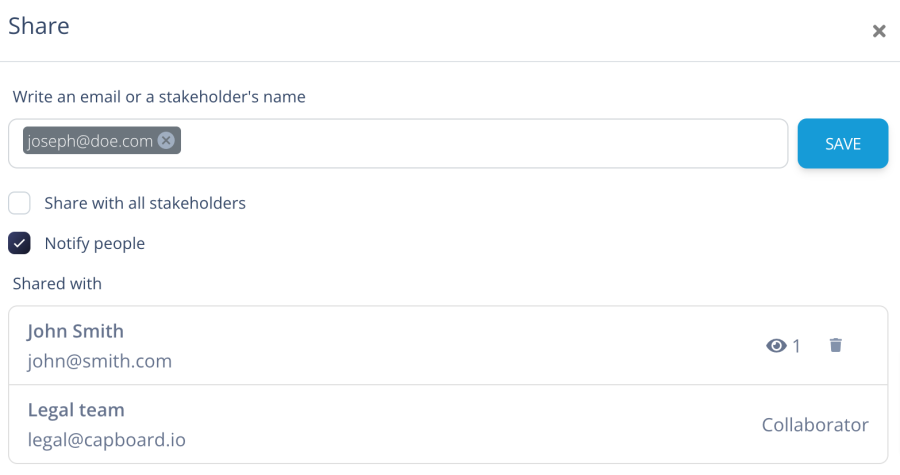 Sign up or schedule a demo to learn more about how Capboard can help you with your Virtual Data Room.