What is a Virtual Data Room?
A virtual data room is an online repository of documents and data, allowing companies to securely store and share documents with other companies or individuals. Usually digital data rooms are used to streamline the due diligence process during fundraising, M&A, private equity or venture capital.
Common features include:
How to Use a Data Room when Fundraising or M&A
Startups looking for a new investor usually use a Virtual data room to structure their fundraising or M&A deals. Its usage depends on the stage and nature of the deal and the size of the company. Are you looking for investors? Find your future investors here.
Interest gathering
When companies look for a potential investor or acquirer, it is common to prepare a deck highlighting the main achievements and KPIs. That deck is shared with third-parties that have not signed an NDA, and usually that deck gets forwarded to funds or stakeholders outside of our control.
A Virtual Data Room is useful for those companies that want to control the first stages of a deal. By uploading the deck and giving access or sharing a link with our stakeholders, it is possible to track who opened the deck, for how long they have reviewed, and if they have forwarded internally or externally. On the other hand, some investors may prefer having the file so they can download it or sharing it freely.
Due diligence
When a Term sheet or Letter of Intent has been negotiated and accepted, the due diligence stage start. The potential investor or acquirer will want to check several pieces of information and documents to make sure the company is in the situation shared during the negotiations. Those documents may include:
With a Data Room, the company can share all the information safely, structure it in folders and track who checks what and for how long, to identify potential issues early on.
Post-signing Data Room
A Virtual Data Room is also used after finalising the deal to report on a monthly or quarterly basis on financial performance and the other key areas. It is important to keep sharing relevant information, as the relationship with investors continue; and oftentimes acquired companies remain independent and keep their Executive team.
Some documents that may be shared when the deal is closed:
The Best Virtual Data Room for Startups
Capboard is the first Virtual Data Room that allows startups to manage their fundraising and M&A in one place, including the cap table, ESOP, and the shareholder list. Firstly, find out how Capboard compares to DocSend. And here are the benefits you will enjoy with Capboard: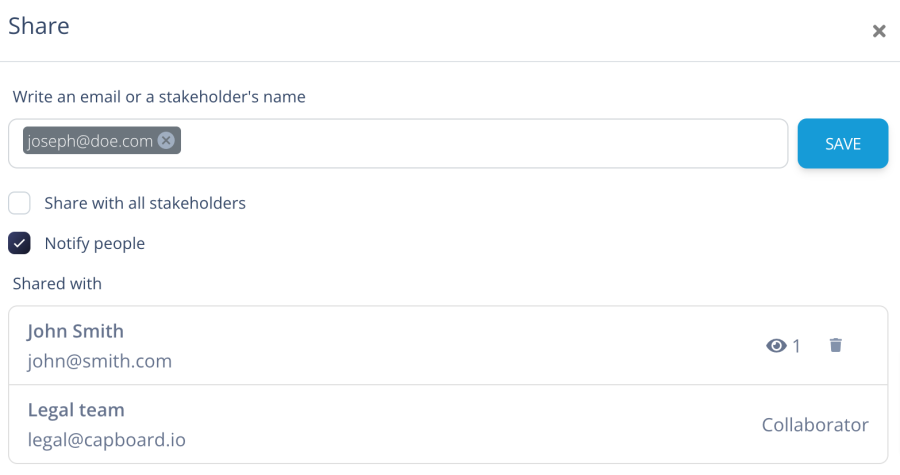 Sign up to create your Virtual Data Room in minutes.