What are Share Certificates?
A share certificate is a document issued by a company that certifies a shareholder is the rightful registered owner of shares in the company. A certificate is issued as a receipt of her purchase and to reflect ownership of company shares as a legal proof. Certificates used to be issued in paper, but digital certificates are becoming the norm as they are cheaper to issue and ship and they can't get lost.
Share certificates can be issued for every transaction or stock issuance, or a single certificate with the total of shares owned.
Free Share Certificate Generator
The legal name of the company.
The name of the shareholder the share certificated is issued to.
Amount of shares the shareholder holds.
The $ value of each share.
Unique identifier of this share certifiicate.
The date the share certificate is issued on.
Complete the 3 fields before calculating. If you are not sure about the investment amount, type 0.
Automate your share certificates with E-signature with Capboard.
Start for free
Why are Company Stock Certificates important?
Share certificates are used as the ultimate ownership proof in most countries, and companies are required to issue them within two months after the transaction or issuance happened.
When shares are transferred from one shareholder to another one, the seller has to surrender her certificate to be cancelled, while the company will issue a new one for the buyer. In a digital world, all this process is managed automatically.
Some countries also required the shares to be numbered, even though in some cases share certificates are also mandatory. Capboard offers both: a tool to issue digital share certificates and manage numbered shares easily.
What information do company share certificates have?
The structure of a share certificate is quite standard worldwide, and although there are unlimited formats and templates, the data to be included is usually the same:
Company name: the company issuing shares.
Certificate number: unique stock certificate number.
Amount of shares owned
Date: certificate date, usually on the date of the transaction.
Shareholder name, or Company name if the shareholder is a company.
Shareholder address
Class of shares owned
Amount paid (in some cases)
Signature
In some countries it is required to include some additional information for each shareholder, like the tax ID or the address. More details about country requirements in the section below.
Company share certificate templates
There are thousands of share certificate templates and models, as there is no standard design. Pick the one you like the most or create your own, as Capboard allows each company to have a customized share certificate template, which can include exclusive branding and the company logo.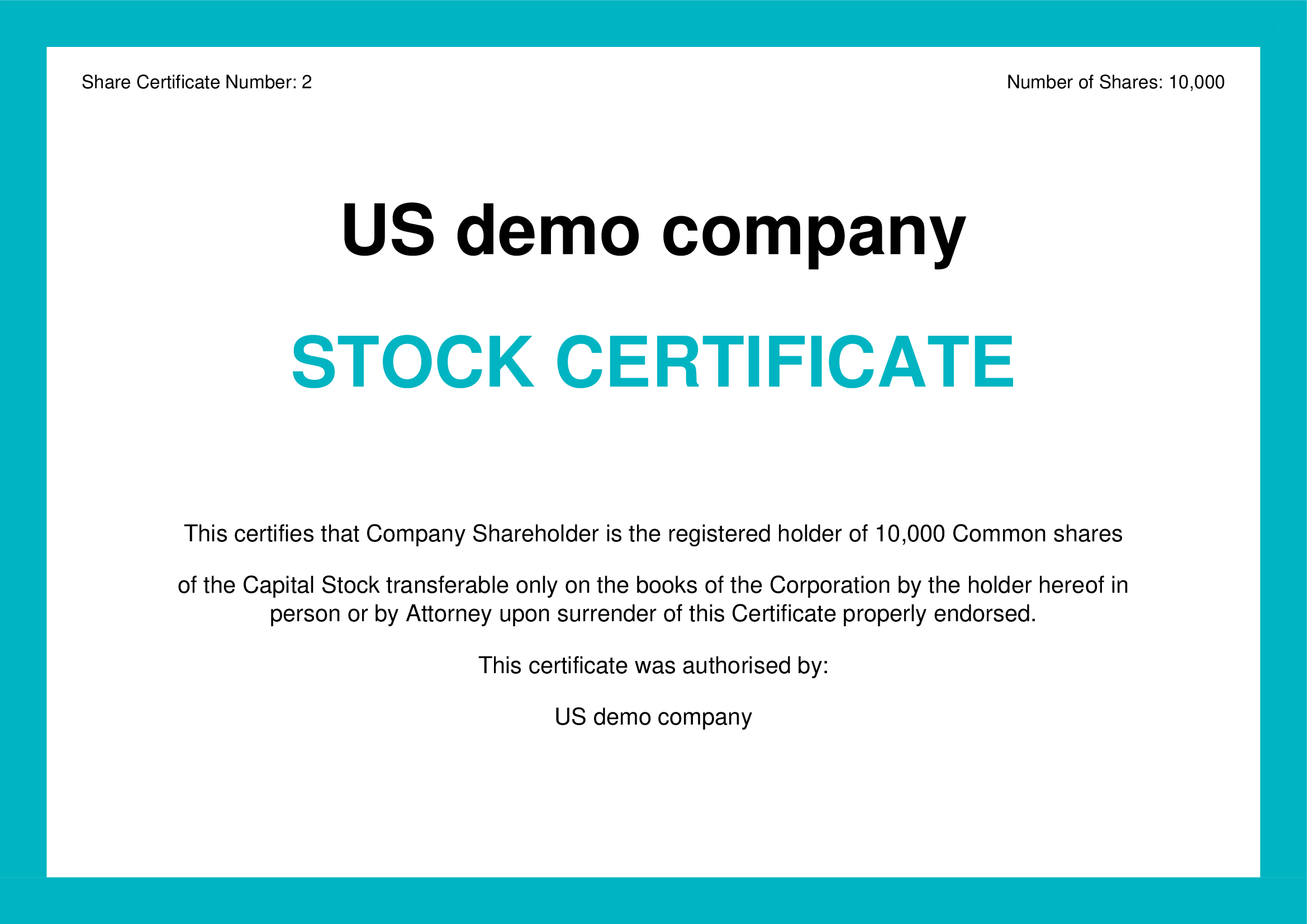 Share certificates and shareholder record books are built with the information of a company's cap table. Keeping a digital cap table makes compliance and record keeping way easier.
How to Automate Share Certificate Generation
Issuing digital or physical stock certificates can be a time consuming task, especially for companies with a lot of shareholders. To avoid spending time on a task that doesn't add value, to improve shareholder's experience and avoiding mistakes, companies like Capboard automate the entire share certificate lifecycle:
A share certificate is issued to each founder when the company is incorporated
A certificate is automatically issued every time new shares are issued.
When shares are transferred, a new certificate is created for the acquiree, while the old certificate is removed on the seller's account.
Share Certificate Requirements by Country
Keeping a shareholder record with their holdings is mandatory all over the world, but the format, cadence and some other requirements differ from country to country. Below we outline some distinctions between some relevant jurisdictions:
United States: share certificates are issued by companies when shares are issued or transferred, and the company also has to keep the records in the books. LLC companies issue membership certificates, which are very similar to the public companies' share certificates.


United Kingdom: The Companies Act 2006 established that the company has 2 months to issue certificates after they are alloted, issued or transferred. Usually companies issue just one certificate for all shares issued or transferred on a specific date, but a shareholder may request split certificates.


India: share certificates must be issued within two months after the company's incorporation or after issues new shares, and a month after shares are transferred between shareholders. The company is required to offer the first certificate for free, but it can charge Rs 20/ for each additional copy.


Israel: companies registered in Israel are not required to issue share certificates, as the ultimate legal proof is the Private Company's Internal Registries. To confirm you are registered as a shareholder, ask for a certified copy of the company's shareholder book.


Australia: the company will issue the certificate to the shareholder and will also need to keep a copy with the rest of the company's records. It is a legal requirement for a company to issue share certificates to investors within two months of their purchase and notify ASIC of those purchases within 28 days.


New Zealand: the government requires to all businesses registered in NZ to update their shareholder list and holding positions at least once per year. Details of all shares and shareholders must be kept up to date on the company's own share register, and notified in the company annual return.


Mexico: share certificates are mandatory and need to be issued within a year from the operation. In the meantime, the company must issue a temporary certificate.


Spain: share certificates are not mandatory, instead the company has to issue a shareholder book with all stock transactions that happened within the last year, with the final positions.