Building a startup involves a lot of administrative work being done by founders. Tons of documentation, contracts, share certificates, paychecks, and the list goes on and on, especially during fundraising and due diligence. Thankfully, having a virtual data room simplifies it all and allows to have all documents in one place.
This article will examine virtual data room software alternatives to DocSend you can use in your startup.
Capboard: data room + equity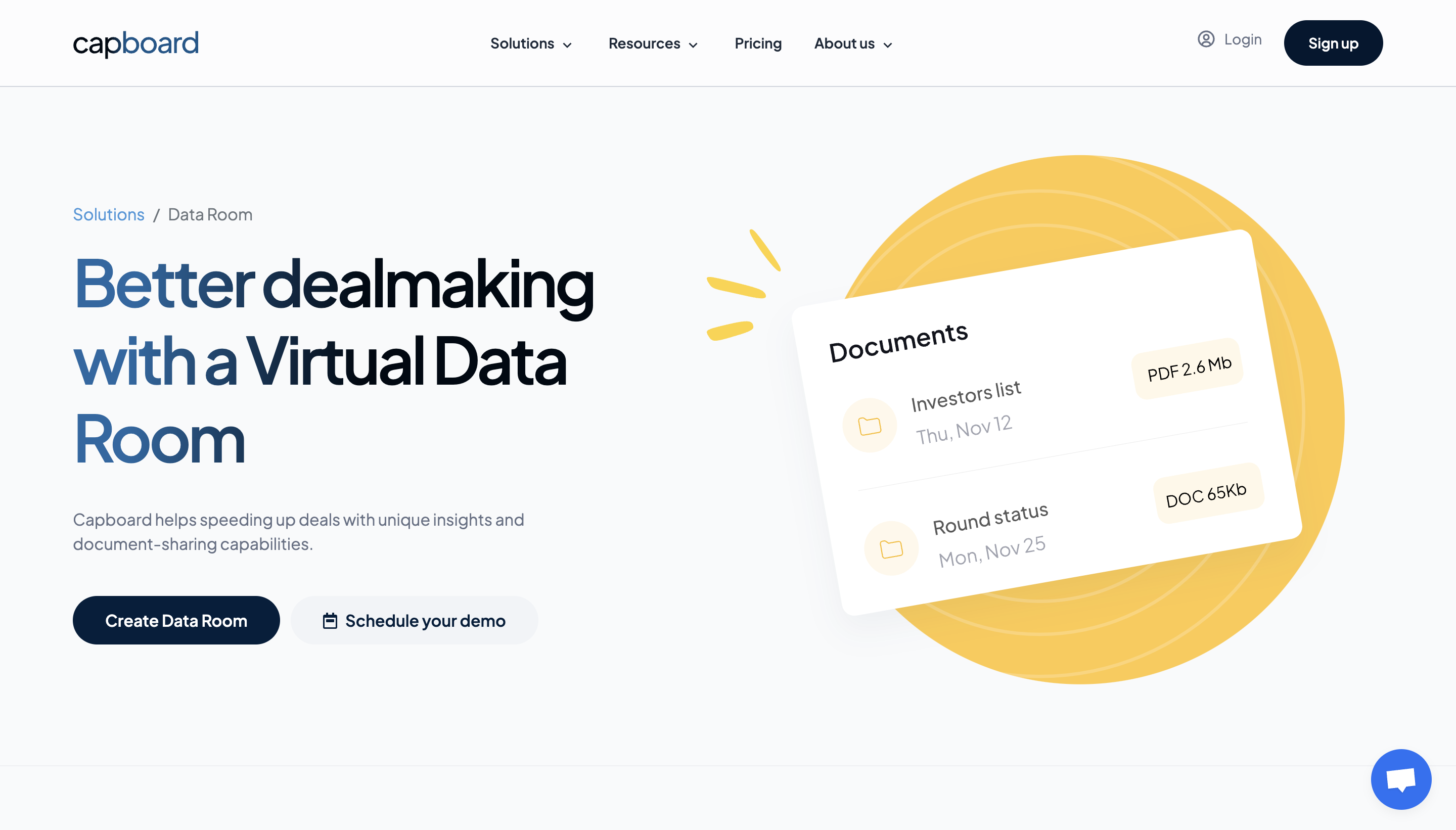 Capboard is a software solution which gives founders the tools to have a digital cap table and a virtual data room under one software. Paired together, you can take care of the two more efficiently.
Companies tend to use several tools to manage their relationship with existing and potential investors: one tool for reporting, Excel for cap tables, Drive to store the contracts… By merging your cap table data with your file management system, you can easily send investor updates, keep stakeholders in the loop, and organize board/shareholder meetings while safely sharing docs.
Fundraising simplified
Fundraising and investor management play a significant role in a startup's journey. The experience of raising funds is already a demanding one. Protection of sensitive data paired with transparency requires using tools which can ensure that.
Having direct access to the cap table data, founders can speed up their deal-making and due diligence. It's possible by leveraging the ability to share equity history and all the supportive documents with current and potential investors in a few clicks. This combination becomes one of the most efficient ways to raise capital from existing shareholders.
Easy Equity Management
Taking care of equity management and keeping your cap table current is critical. The legal procedure around equity management involves many official contracts, documents and files. Having a place where those share certificates, stock option grants or SAFE contracts are stored can greatly simplify equity management and your life as a founder.
Attaching those documents to the equity transactions recorded on Capboard ensures your company stays compliant. Furthermore, it provides all parties with direct access to those files when needed.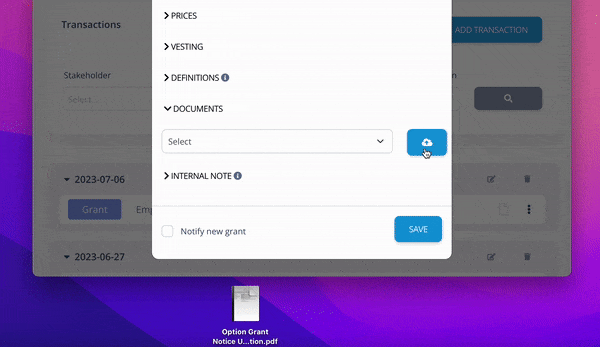 Organize board meetings
Organizing board and shareholder meetings can be a daunting task that takes lawyers hours to set up while ensuring it's legally compliant. With Capboard, you, your board secretary and the board of directors can take the experience to the next level and optimize the process end-to-end.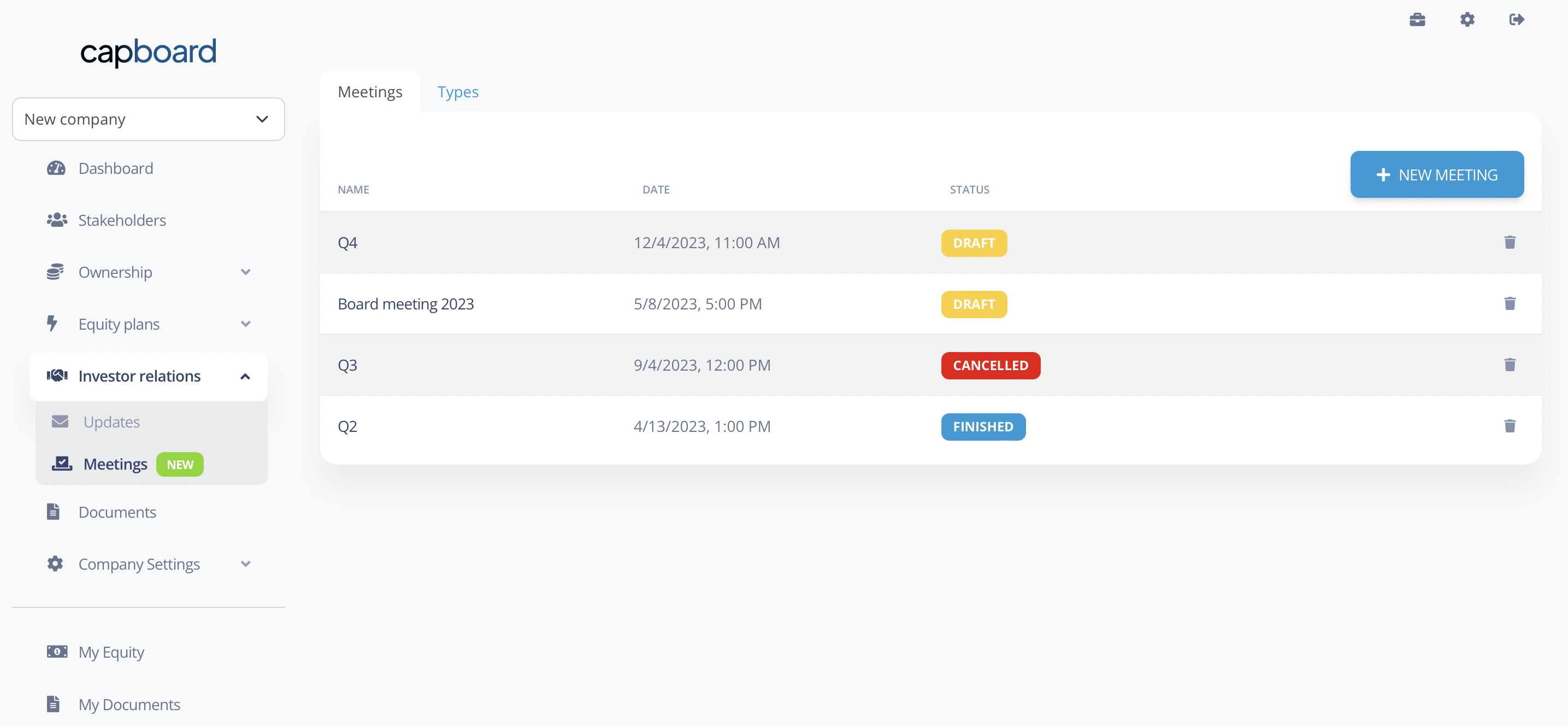 Set up a meeting notice, prepare an agenda, track meeting minutes, request e-signatures, and share documents with all the parties involved with confidence and ease. You can invite stakeholders in a few clicks by having groups like "Board members" and "Investors".
Capboard Pricing
Being on a free plan allows you to enjoy the benefits of a doc management system while sending investor updates and taking care of your cap table and stakeholders at no cost.
If you are also interested in managing board/shareholder meetings and requesting e-signatures, a Growth plan will satisfy your needs and allow you to have a virtual data room that leverages a powerful connection with your cap table. This way, you speed up the processes by getting the most out of the data from your cap table at a fraction of the cost you would pay for DocSend.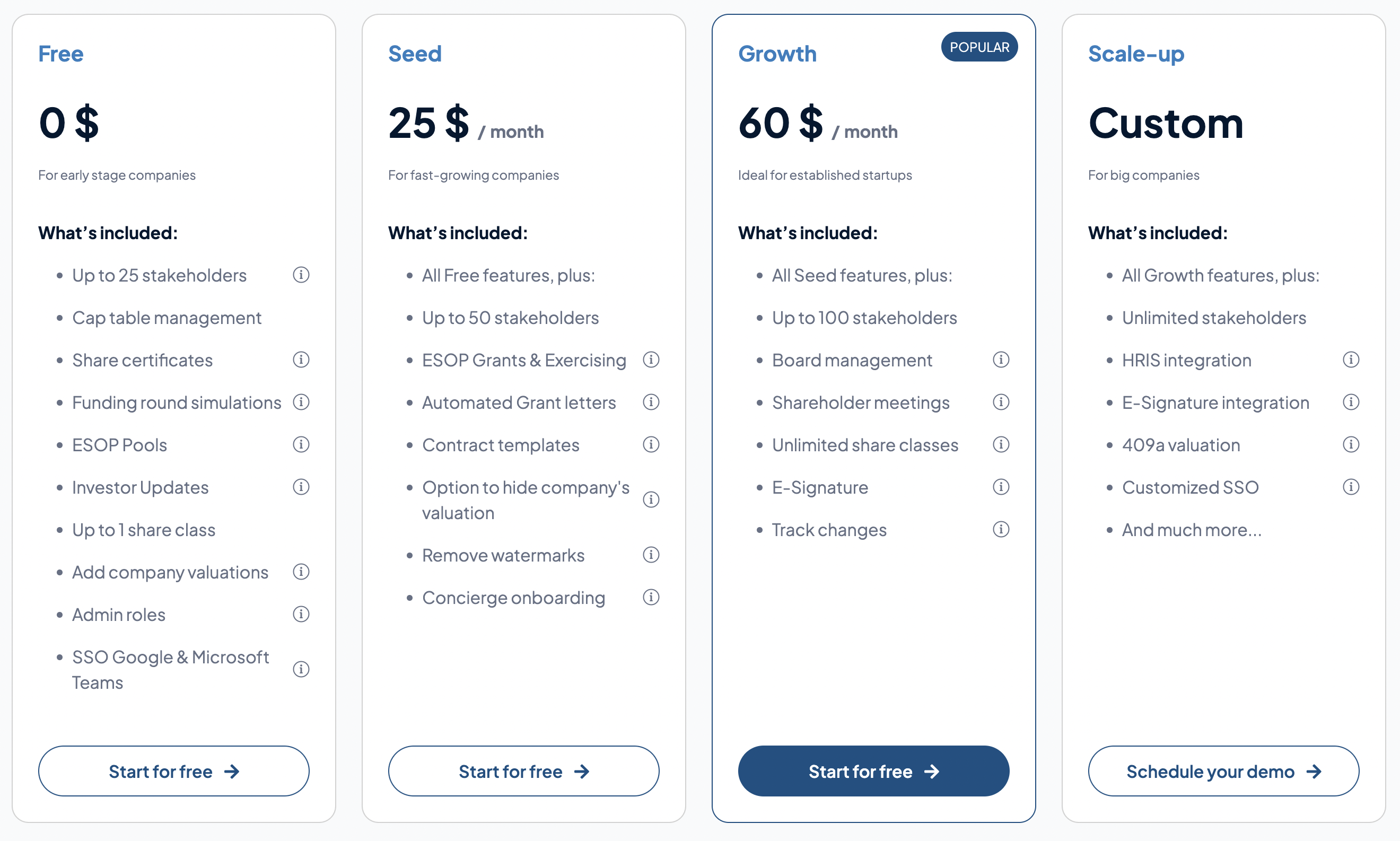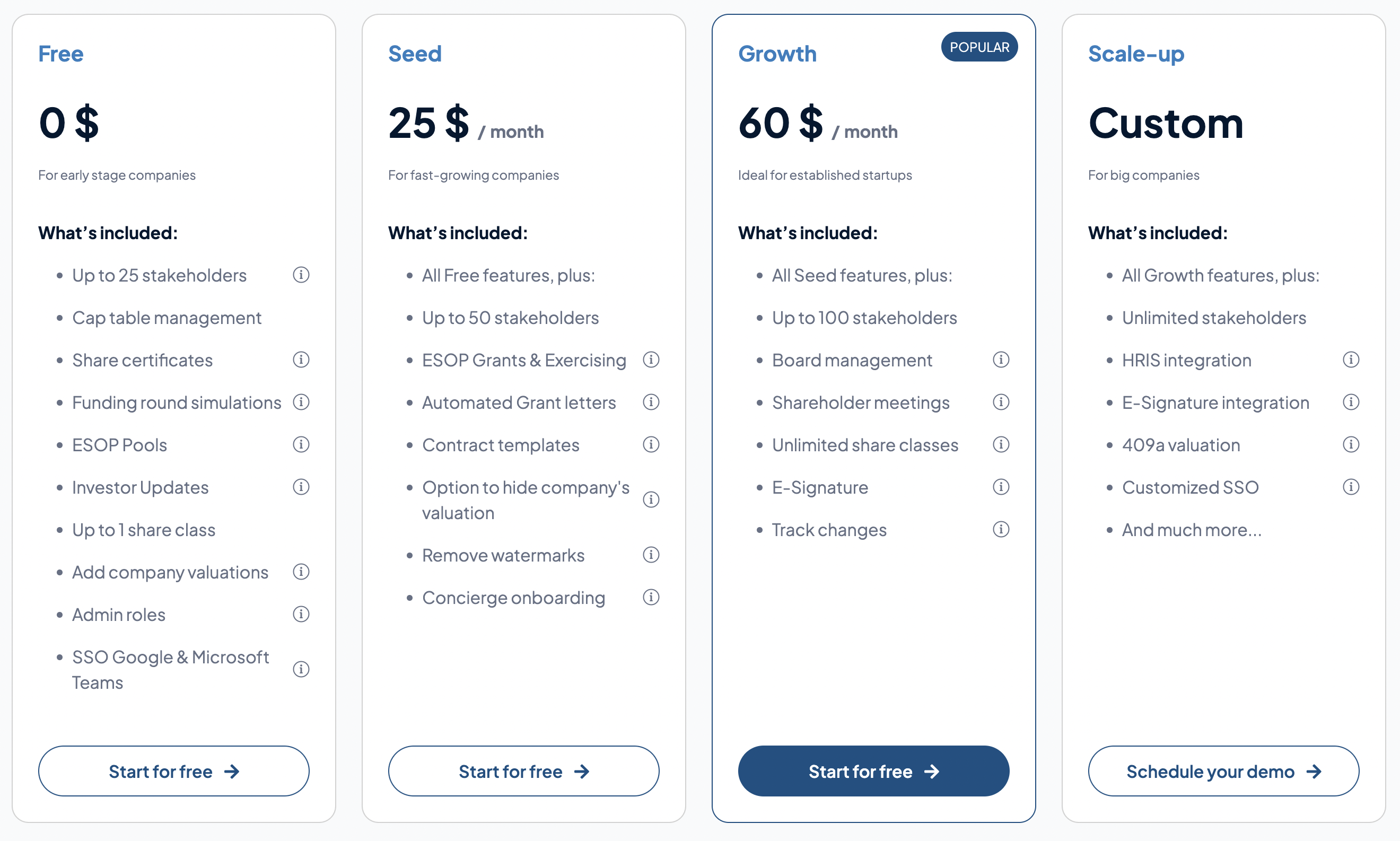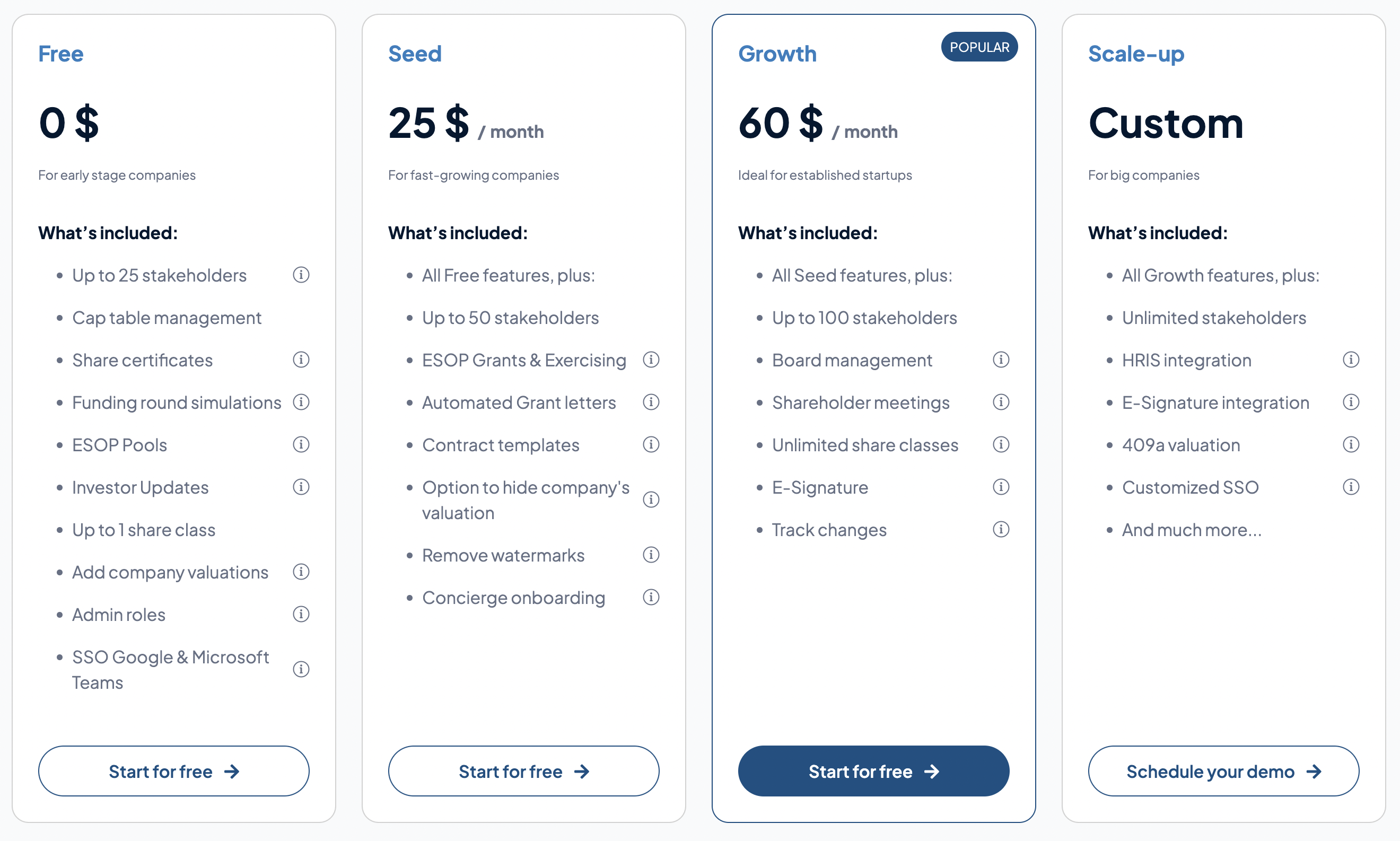 DocSend overview
DocSend is a great software that allows you to store, share and receive files. When you are interested in a virtual data room for a specific reason or just looking for a way to organize your company's docs securely in one place, DocSend can be a good consideration.
Positives of DocSend
DocSend is a powerful tool for exchanging files in the most secure way possible.
You control the whole process: from allowing downloads and collecting e-signatures to adding expiration periods and requesting an NDA.
With its extensive possibilities for file management, you can create spaces using templates and efficiently organize your files.
Finally, the ability to track viewer analytics makes DocSend a great option for a file management system.
What could be better?
One crucial element that needs to be considered when choosing the software is the relatability of the product. DocSend provides features that assist during the essential stages of a startup. These experiences include fundraising, due diligence, sharing investor updates and organizing board meetings.
However, considering these processes require the exchange of complex and constantly changing data (like equity ownership data), DocSend lacks the essential connections with the tools that simplify them. Without any links to a digital cap table or an investor management platform, the process of due diligence or providing visibility around equity can be far away from desirable.
DocSend Pricing
DocSend does not have a free plan. You start with a 14-day trial. When it's due to end, you will be asked to choose the paid plan out of the 3 options you can see below. The DocSend prices are per user. If you want to give access to the account to more people (co-founders, lawyers), the price you see on the screen is multiplied by the total number of users.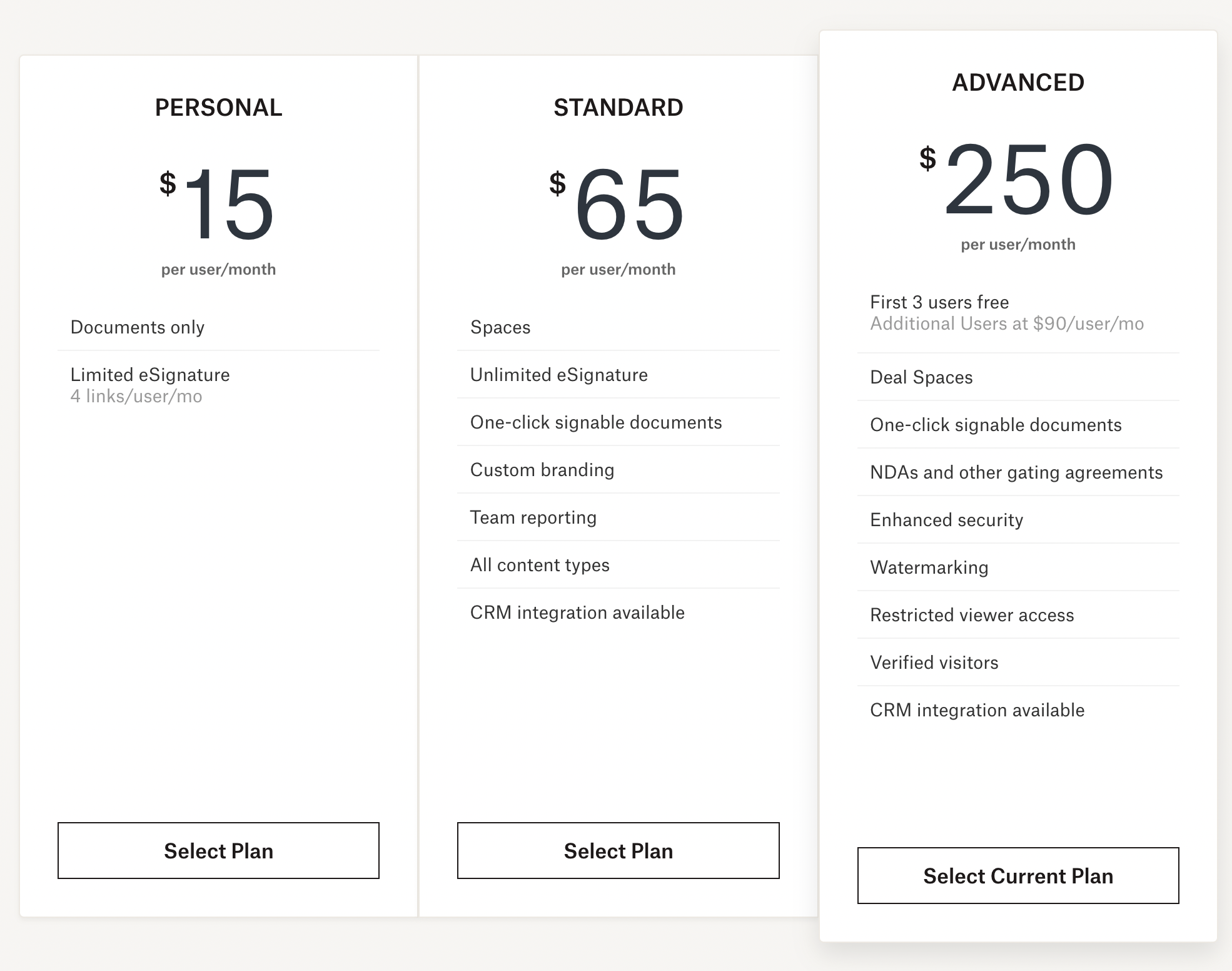 PandaDoc
PandaDoc is one of the alternatives to DocSend when it comes to document repositories. Here are their main strengths:
E-signatures: One of the main strengths of PandaDoc is its e-signature feature. They allow creating documents and requesting secure and legally binding e-signatures.
Deal making: Another element that allows them to stand out is their features around deal-making. These involve creating advanced quotes, accepting payments, and ability to create smart content (with logic).
Templates: Create and use a so-called master copy as a template to generate documents. It can be instrumental in the context of equity grants and share certificates.
However, it's essential to know the drawbacks of PandaDoc when we are talking about virtual data room software for startups:
No cap table connection: Like DocSend, PandaDoc does not have a direct link to the cap table data that contains information on stakeholders like employees, investors and board members.
Fundraising, due diligence and ownership visibility complexity: from due diligence to visibility over shareholder ownership, PandaDoc does not allow that. While it is possible to send share certificates, pitch decks and term sheets, the experience can be better for both parties when equity management software is used.
PandaDoc Pricing: While it has a free plan, PandaDoc limits the abilities offered. Once again, a 'per user' pricing model is utilized.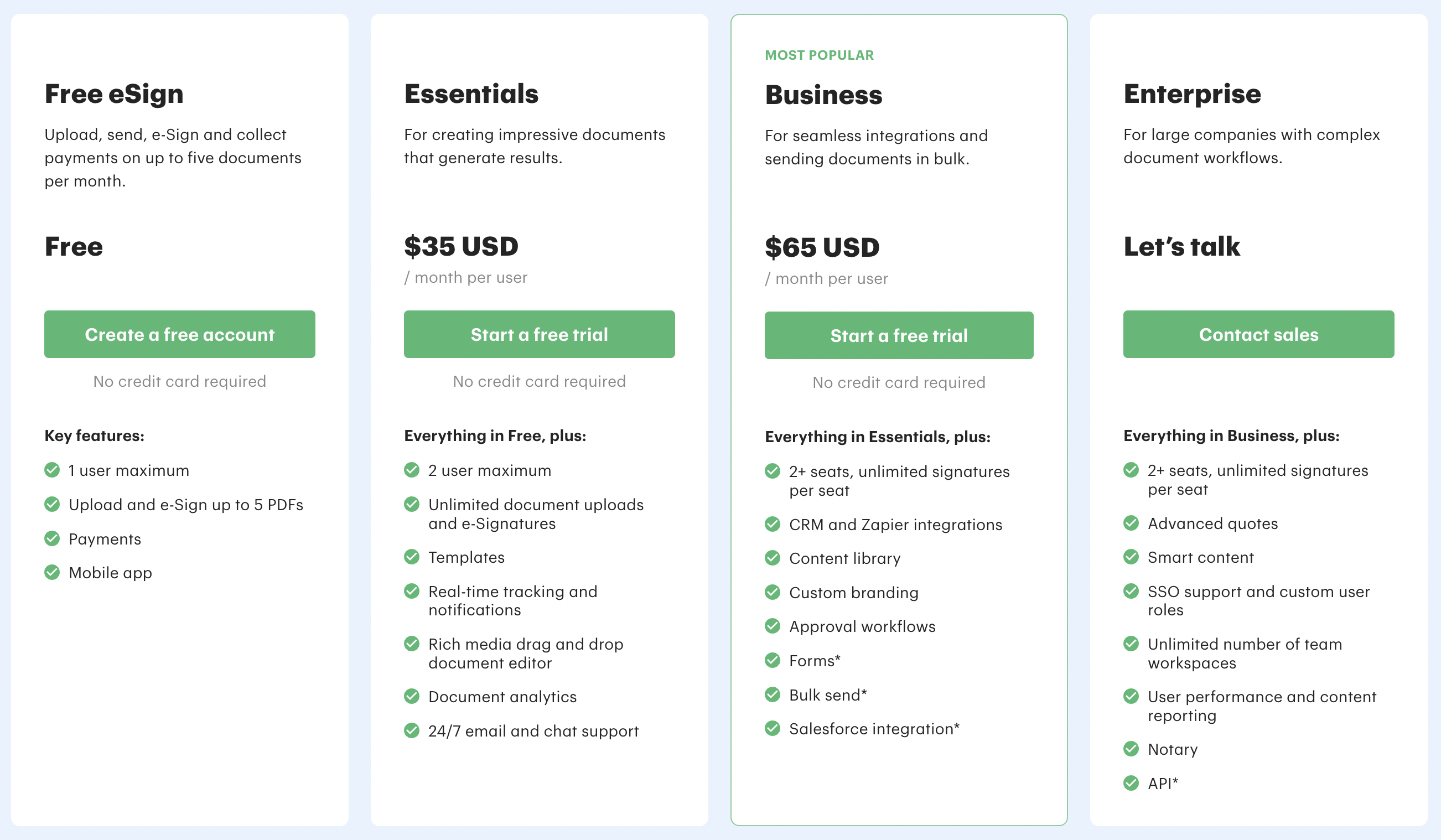 Google Drive
While we covered software options for virtual data rooms, we cannot forget our old friend Google Drive or its similar alternatives. With its simple and well-known interface and features, Google Drive can serve its purpose for startup founders.
Google Drive allows easy file sharing and document organization. But there isn't much more to that. Given that it's free and accessible, people don't expect more from it. However, startup founders looking for solutions to optimize their fundraising and have an all-around virtual data room may not be satisfied.
Alternatives at a glance
DocSend is one of the software that helps startup founders store and share files securely on the web. However, while it contains tools and features that simplify a founder's life, it does not connect crucial data sources of equity management to simplify shareholder management and due diligence during fundraising.
Here is a comparison table (with numbers representing the grades out of 5 - the best) between the 4 abovementioned solutions that you can consider when looking for a virtual data room for your startup in 2023.
| | | | | |
| --- | --- | --- | --- | --- |
| | Capboard | DocSend | PandaDoc | Google Drive |
| Secure file sharing | 3.5 | 5 | 4 | 3 |
| Cap table data integration | 5 | 1 | 2 | 1 |
| Investor communication | 4 | 4 | 2 | 2 |
| Board meeting management | 4 | 3 | 2 | 1 |
| Fundraising & due diligence | 5 | 3 | 3 | 2 |
| Pricing | 4 | 2 | 3 | 5 |
| UX/UI | 4 | 4 | 3 | 4 |
DocSend's alternative Capboard - Your startup's virtual data room
Managing documents for your startup can be a daunting task. A powerful file management software can simplify and speed up the founder's day-to-day activities. While DocSend is considered to be one of the best when it comes to secure file sharing, it's not as efficient when it comes to equity-related data.
Linking cap tables and stakeholders' data with a file management system streamlines critical stages of a startup's life: fundraising, due diligence, sharing investor updates and organizing board meetings.
With Capboard, you can securely share files while leveraging the data from your cap table. Learn more about how startup founders save dozens of hours monthly with Capboard by creating an account for free.