What is incorporation?
Incorporation is the legal process of creating a new corporation and legally registering it with governmental bodies.
If you want to learn more about incorporation, read our guide on what it means to be incorporated.
Our video guide on adding the incorporation:
Adding the incorporation on Capboard
Part 1:
Date section: Add a date of incorporation / when the company was legally registered.

Valuation Event Name section: Keep the section's name as "Incorporation".

Share Class section: Choose the type of shares issued to co-founders (typically "Common/" shares, but you can create a new share class with conditions and clauses specified by clicking on the share class options and choosing "Add Share class".)

Price per share section: keep the share price at 1 or specify a different value for your incorporation stage. The share price can have a low value, e.g., 0.0001, to get a relevant small post-money valuation at the incorporation, something that is often seen early on.

Part 2:
On the spreadsheet:
Stakeholder name section: Add the names of all of the co-founders

Email section: Add their email addresses. Capboard will send them an invite if "Invite stakeholders" (bottom left of the screen) is activated.

Investment section: Specify the amount invested. It could be kept at 0 if the co-founders did not invest. In that case, the Discount = 100%, meaning that shares (company equity) are received without money being invested.

Shares section: Specify the number of shares each co-founder received at the incorporation (if you know the percentages but don't know the number of shares, consult your co-founders or the stakeholders' agreement or a legal document regarding your incorporation)
P.S. If you don't have some of the data required right now, it's not a big deal. You can add and/or edit the information later on when you have it.

After you fill out the data, you will see the post-money valuation and the total number of shares at the bottom.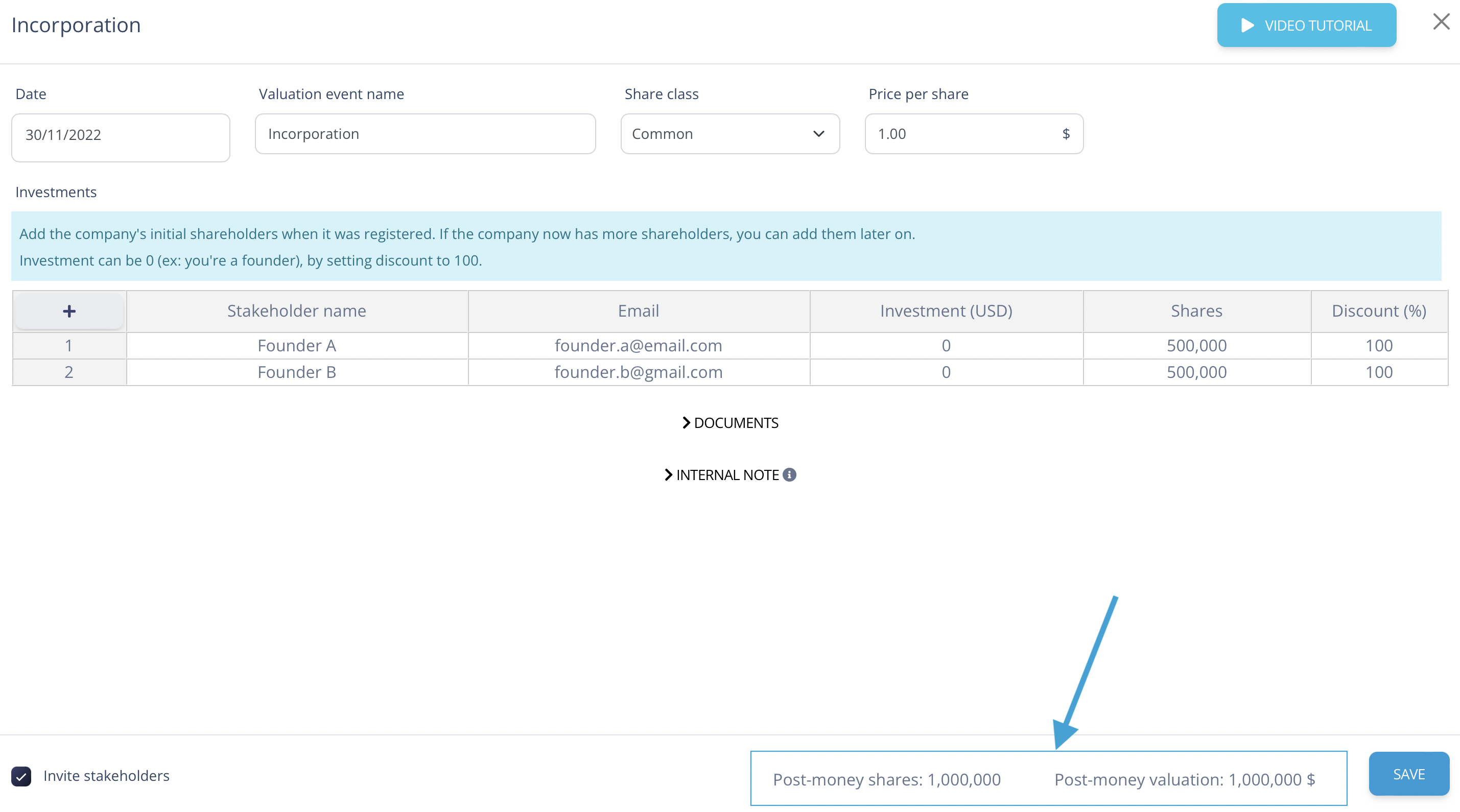 Keep in mind, at this point you should only have the data regarding the incorporation event. Any financing rounds, employee equity plans, and other transactions that influence the cap table should be added later.
To consult your transactions history or to add/edit any data, go to the Equity > Transactions section.